It is our goal at Theatre School that all the students who come through our program become not only strong actors, but also strong people. We believe that the Arts are the way to change the world for the better. We want to make sure that every child has the opportunity to experience the power of theatre whether onstage or off. We tell our stories and hope that the audience, as well as the actors, are inspired to do more. That is the purpose of Art With a Heart: To bring awareness through our productions of something bigger than ourselves. Art With A Heart is a way for us to become a more active part of our local and global communities.
Previous years we have partnered with The Butterfly Project to promote Holocaust Awareness, the Malala Fund to help girls across the globe receive quality education, Literacy Outreach (both locally and in Ghana), had outreach to the Deaf and Blind Community, and support offered to the Veteran Community and The Wounded Warriors Project.
If you would like to support our Art With A Heart Initiative you can contact our Director of Development: Rick Ochocki – Rick@northcoastrep.org
Your support will mean we can offer scholarships for those in need, or bring live theatre to students and schools that otherwise would not have access to live theatre. It will ensure our outreach programs can continue to grow and inspire our youth. You can help Theatre School "Be the Change"!
See Photos from this year's Shakespeare in Schools Outreach sponsored in part by the City of Carlsbad – Community Arts Grant.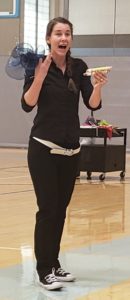 Responses from Students
Student Responses from Twelfth Night Outreach
Past Partners