We hope you will join us for a season with tests of Character, Change, & Quality…
All performances, unless otherwise noted, are presented onstage at
North Coast Repertory Theatre
COMING UP NEXT:
The Theatre School @ North Coast Rep believes in the power of community, education, and creative expression.
While our regular in-person classes, student productions, and other TS@NCRT activities are on hold, we would like to offer our students possible ONLINE interactive options.
Check out our upcoming FALL THEATRE CLASSES being held online, and continue to join the theatrical fun!
Just click on the "Classes and Camps" tab in the left sidebar to find the classes for your age group. You can enroll online using the links for each class or call the Box Office to register: 858-481-1055. Be sure to enroll with a
working email

. Instructors will email students and families with a link to online class sessions.
You can also email Ben Cole, Director of Theatre School Education & Outreach, with any questions: Ben@NorthCoastRep.org.
Join us for our next student production:
20,000 Leagues Under the Sea
By Anne Sonneville and Clint Sheffer
From the novel by Jules Verne
Performances – January 21-22, 2021
January 21st: 5:30PM
January 22nd: 5:30PM
We join the prolific naturalist Professor Aronnax, his devoted assistant Conseil and the gritty harpooner Ned Land for an epic journey aboard the Nautilus, the world's first submarine vessel. Forcefully led by the dangerous and enigmatic Captain Nemo on an unprecedented tour of the seven seas, our three heroes are confronted by harrowing challenges, incredible adventure, and a host of most unusual creatures. They must also wrestle with the dark forces that lurk in the depths of men's souls if they are ever to return home alive. In this daring new adaptation of Jules Verne's classic 19th-century saga, an emphasis on action strips this adventure down to its essence, bringing spectacle and ensemble to the fore. While this work is primarily an adaptation of a classic piece of literature, it also contains a hint of satire, which stems from our love of '80s and '90s genre films, action-comedies in particular. References to Predator, Die Hard, The Last Boy Scout, Hudson Hawk, The Whole Nine Yards, Jaws and Blade Runner are peppered throughout the script to help lend a contemporary flavor.
Time period: 1870
Settings of play: Inside the Nautilus
Run-time: 80 minutes, no intermission.
Type of Play: Science Fiction Adventure
Suggested rating: PG – recommended for grades 2nd & up, but all audiences may enjoy.
The generous support of ourTheatre School Donors has made this production possible.
If you'd like to join our list of sponsors, please contact Development Associate for North Coast Rep: Neville Engelbrecht, Neville@northcoastrep.org, 858-481-2155 ext. 211 or click the link to DONATE NOW!
Thank you for supporting Excellence in Theatre Education!
Get your ONLINE audition spot for our next student-acted production of:
The Inspector General
Congratulations to everyone involved and who supported our student production of The Neverending Story (Atreyu and the Great Quest)!
We are proud of our daring student performers who brought this show to life!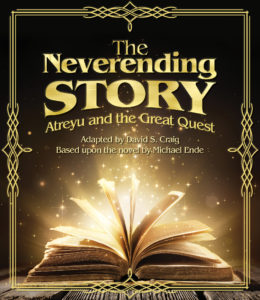 Enroll now for our next session of ONLINE THEATRE CLASSES!! CLICK HERE for more info!
Check out our Season 39 Theatre School classes and Summer camps in the new Flip Book Brochure! Enroll now for even more Theatrical Fun!
Questions, comments, or suggestions?
Contact: Ben@northcoastrep.org