We hope you will join us for a season with tests of Character, Change, & Quality…
All performances, unless otherwise noted, are presented onstage at
North Coast Repertory Theatre
COMING UP NEXT:
The Theatre School @ North Coast Rep believes in the power of community, education, and creative expression.
While our regular in-person classes, student productions, and other TS@NCRT activities are on hold, we would like to offer our students possible ONLINE interactive options.
Check out our upcoming FALL THEATRE CLASSES being held online, and continue to join the theatrical fun!
Just click on the "Classes and Camps" tab in the left sidebar to find the classes for your age group. You can enroll online using the links for each class or call the Box Office to register: 858-481-1055. Be sure to enroll with a
working email

. Instructors will email students and families with a link to online class sessions.
You can also email Ben Cole, Director of Theatre School Education & Outreach, with any questions: Ben@NorthCoastRep.org.
Join us for our next student production:

The Neverending Story
(Atreyu and the Great Quest)
Adapted by David S. Craig
Based upon the novel by Michael Ende
Online Performances – October 8-11, 2020
October 8th: 10AM & 5:30PM
October 9th: 10AM & 5:30PM
October 10th: 11:30AM & 5:30PM
October 11th: 11:30AM
Told with all the thrills of a classic adventure, the story begins with Bastian, a lonely boy, who stumbles into a curious bookshop where he discovers a curious book—The Neverending Story. Bastian hides in the attic of his school and begins to read, and a huge adventure surges into life. Fantastica, a land of stories, is being destroyed by the Nothing. The Childlike Empress has chosen Atreyu, a young hunter, to be the Hero of the Great Quest. Atreyu, an orphan, is an unlikely choice, but he accepts and, with his horse and companion, Artax, rides to face the menace. First, he experiences the Nothing and discovers its thoughtless destruction. Then he is guided by a dream to the Swamps of Sadness where he meets Morla, the Ancient One, who reveals another solution. He must find the Childlike Empress a new name. With this new direction, Atreyu faces Ygramul the Many, befriends Falkor the Luck Dragon, and solves the riddles of the three magic gates to meet Uyulala. From her he learns that only a human child can give the Empress a new name. In despair he faces his final test—the werewolf Gmork—and returns to the Childlike Empress without a new name. However, his quest has attracted a human child. It is Bastian himself who calls out a new name for the Empress, and the story rushes to its triumphant and moving conclusion. Commissioned by Seattle Children's Theatre and Imagination Stage
Time period: 1979
Settings of play: An attic through the Caretaker's broom closet, and the Land of Fantastica
Run-time: 85 min, no intermission.
Type of Play: Fantasy
Suggested rating: PG – recommended for grades 2nd & up, but all audiences may enjoy.
The generous support of ourTheatre School Donors has made this production possible.
If you'd like to join our list of sponsors, please contact Director of Development for North Coast Rep: Rick Ochocki, Rick@northcoastrep.org, 858-481-2155 ext. 300 or click the link to DONATE NOW!
Thank you for supporting Excellence in Theatre Education!
Get your ONLINE audition spot for our next student-acted production of:
The Neverending Story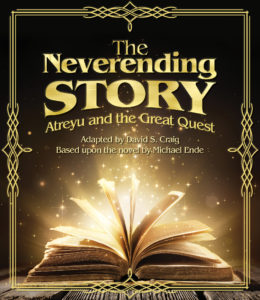 Congratulations to everyone involved and who supported our student production of THE TEMPEST!
We are proud of our daring student performers who brought this show to life!
Enroll now for our next session of ONLINE THEATRE CLASSES!! CLICK HERE
for more info!
Check out our Season 39 Theatre School classes and Summer camps in the new Flip Book Brochure! Enroll now for even more Theatrical Fun!
Questions, comments, or suggestions?
Contact: Ben@northcoastrep.org